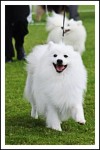 Japanese Spitz & Phalenes
Name of Kennel / Prefix / Affix:
Saoirian Japanese Spitz & Phalenes
What age were you and how did you become involved in the world of Dogs?
We got our first Japanese Spitz approx 12 years ago, a beautiful little bitch called Reya. Shortly after that we got our first "Showdog" Shelby & Saoirian Japanese Spitz started from there.
What Breeds of Dogs have you had over the years?
Japanese Spitz were our first breed & then 4 years ago we got our first Phalene Seren.
What Breeds of Dogs have you got now ?
Japanese Spitz & Phalenes & 1 papillon.
What would you consider to be your main Breed and the one people associate you with?
Japanese Spitz
What attracted you to this breed ?
When we decided to get a house dog a friend of ours suggested a Japanese Spitz & so Reya came to live with us. She had such a fantastic nature & was such a sweet dog we just got hooked. All of our dogs work as therapy dogs with the organisation Peata, it's a fantastic testament to the beautiful nature of the Japanese Spitz.
What advice would you offer to anybody that is interested in becoming an owner of this Breed ?
Japanese Spitz are a real all rounder, they love to please, they are attentive to their owners they are active & agile making them ideal agility dogs. They love to learn & owners can have a lot of fun teaching them tricks. They make a fantastic family pet & love nothing more than to spend time with their family.
Does the Breed have any specific requirements by way of exercise & grooming?
Japanese Spitz are an active little dog & love walks & playing with toys. Brushing is a must Japanese Spitz have a double coat & should be brushed out at least twice a week to avoid matting. Japanese Spitz coats should be left natural & not trimmed.
Does the Breed have any specific health tests that should be done before a Dog or bitch is used at stud or bred from?
Japanese Spitz are generally a very healthy breed. DNA testing for Muscular Dystrophy is currently at the trial stage in UCD & will be available soon, once available it is very important that all bitches are DNA tested before being bred from. Patella scoring should also be done.
Finally, how would you sum up the characteristics of this breed and what type of household would they best be suited too?
The Japanese Spitz is an alert, lively, bold, eager to please, intelligent family dog. They are companion dogs and make wonderful versatile pets. They tend to be wary of strangers upon first meeting but after that you have a friend for life.
They are a family dog & thrive on attention & affection, they need to be placed with a family who are prepared to give them the time & attention they need & who will put a little bit of time into grooming. Japanese Spitz are an indoor dog & wouldn't do well being left outside.
We at Saoirian along with the rest of the members of The Irish Japanese Spitz Association look forward to representing the breed at this years Pet Expo.